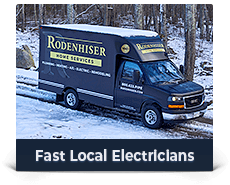 1. EMERGENCY ELECTRICAL REPAIRS AVAILABLE
If you have an electrical emergency, stay safe and call the experts at Rodenhiser. Our electrical team are on call for emergencies and based across the MetroWest. When you call, we'll dispatch the nearest available who will arrive FAST in a fully stocked electrical vehicles with the right equipment to get repairs started upon arrival.
2. PANEL BOARD REPAIRS, UPGRADES AND NEW INSTALLATIONS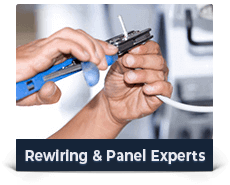 An unreliable power supply may indicate a fault or overloading of your distribution panel. Not only is this frustrating, it can potentially be dangerous and put you at risk of electrical fire or even electrocution. Our electrical experts will inspect your current board and usage to diagnose whether it's a faulty panel, requires a capacity upgrade or is too old to safely meet modern demands and needs replaced. We'll perform the necessary repairs, upgrade or new installation so you're left with power supply that safely and reliably meets your demands.
3. UP-FRONT, PER JOB PRICING
You'll always know the price before we proceed, and no matter how long the work takes you'll still only pay the quoted price.
4. REWIRING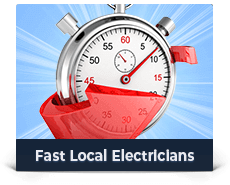 We'll take care of all your wiring needs. From installation of wiring in new locations inside and out, to replacing existing wiring with new, safer and more durable wiring.
5. CAPACITY UPGRADES
If you're experiencing regular power outages each time something is switched on it could be that your supply isn't up to the demand. Make sure your electricity demands continue to be met safely and speak with us about a capacity upgrade. We'll assess your current usage and likely increases and install an upgrade to suit. Then you can rest easy knowing all your essential and non-essential electrical needs will continue to be safely met.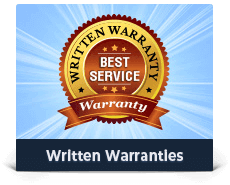 6. REPLACE YOUR OLD FUSE BOX WITH A CIRCUIT BREAKER
Make life easier for yourself by replacing your old fuse box with a modern circuit breaker. Next time the power is tripped, you won't have to find and replace the wire, instead just flick a switch and power is restored!
7. GROUND FAULT CIRCUIT INTERRUPTERS (GFCIS)
Provide superior protection for your family against the risk of electrocution. Faulty wiring or appliances may cause faults within the power supply, leading to electrocution. With a ground fault circuit interrupter (GFCI) professionally connected to your panel board, your power supply will be shut down the moment the GFCI detects any kind of irregularity.
8. CODE COMPLIANCE AND SAFETY INSPECTIONS
Whether your purchasing a property or are concerned about the safety of your current electrical supply and wiring, we can assist with code compliance and safety inspections.
9. USAGE MONITORS
To assist in making energy saving choices, we can assist with the installation of a usage monitor. By monitoring current usage, energy saving changes can be implemented and monitored for their effectiveness. You now have the potential to lower energy usage, save money and reduce your carbon footprint.
10. LICENSED AND INSURED
Relax with the knowledge that your panel and wiring solutions have all been performed by a fully licensed and insured company.
11. TRUSTED FOR OVER 90 YEARS
Rodenhiser has serviced the Route 495 / 128 area of Massachusetts for 90 years and still going strong. With Rodenhiser, you're choosing a tried and trusted company for your electrical service needs.
For on-time service and expertise for your panel and rewiring solutions across the MetroWest Massachusetts area, call and speak with the friendly team at Rodenhiser Electrical today.