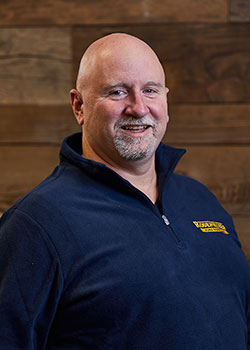 Age: 56 years old
Occupation: CEO of Rodenhiser Home Services
Years in business: 93 years...36 under my leadership
Town in which you reside: Medway
Family: Wife Alissa, Son Jay, and daughters Eliza and Rhiannon
Hobbies: Hiking, Skiing and architectural salvage
Tell us how you ended up in this line of work.
It's a family tradition and responsibility that my grandmother entrusted me with. Keeping the family legacy alive became a responsibility as my father had not gotten his plumber's license and continued building on the non-plumbing portion of what my grandfather and great-grandfather had begun. When I got my plumber's license, I started the plumbing business back up.
What are two memories from your career that stick with you the most?
I was 20 or 21 years old and sitting in Bernie Garber's (Garber Travel) office at his headquarters in Brookline. Mr. Garber and I were talking about a project for his home and the subject shifted to business as it often did. I really respected him and admired the business he had built. He had become a mentor and would offer coaching advice to me about people and customer service. He always stressed the importance of promptly returning calls from clients. His sage counseling has served me well. Our call center was created from an early vision inspired by that conversation. We want our clients to get what they want when they call and not have to wait for a return call.
Another memory from my mid-20s that has stuck with me stems from a conversation I had with Johnny Ficardi in the workshop of L. Petrini & Sons. Johnny was asking me to make a commitment on a deadline. When I did make the commitment, he reinforced my own words with a lightning quick response that I will never forget. He said, "You're a man of your word until you speak them, then you're a slave to them." I thought about that a minute and we even talked about it a bit in his office. Johnny said an old guy had said that to him one day and he thought it important to live by. I agreed.
As a young boy having gone through the entire scouting program from Cub Scout to Eagle Scout, I knew the importance of keeping your word. Those particular words that Johnny spoke that day, though, resonated with me for years. I have often shared his words with my son and I will be sure to pass them on to my succeeding generations at Rodenhiser.
Every employee that commits to serving our clients or leading our people in a management role at Rodenhiser knows that they are an extension of the Rodenhiser family, our name and the brand promise that has been built over 87 years of promises. When they commit to a client or one of our staff it's the same as if I had made the commitment. The entire company stands with and for a commitment made. The promise of our brand rests in the hands of our people and we honor our commitment to our word - sometimes at great and unanticipated lengths or costs. It's important that people know that they can count on your word.
What do you most like and least like about your work?
I find that my most rewarding experiences come from contributing to the satisfaction of our clients through the continuous development of our people, the growth that our people experience as well as the growth of our company as we serve a larger constituency of clients.
I don't like falling short of either client expectations or our organizational goals. I'm a bit of a fixer, so I tend to dissect what went wrong. I often ask: How could we have done it differently? Was the communication all that it could have been? What were the communicated expectations? Why did we or they interpret things differently? I try to resist being defensive (sometimes it's hard) and seek understanding by looking critically at my own role or the role of my direct reports or sometimes their direct reports in whatever shortcoming needs exploring and ultimately fixing (code word for training).
What makes your business or profession unusual?
Our business is unusual because of the incredible number of skilled and talented leaders and craft workers that have chosen Rodenhiser as a conduit to achieve their personal goals. These people lead, manage and serve with distinction and a commitment to our clients that is truly unusual in the residential home service business or any business for that matter.
It's certainly unusual to find such a positive, client-focused culture within a company. Rodenhiser continues to hire and develop people with a desire to be part of something truly great...the sum of our people is greater than any one of us. We support our clients as a true team and in doing so we support each other as we continue to compound our growth year over year.
What advice do you have for someone who wants to open a business?
Read everything you can about business, hire people smarter than yourself, develop and communicate your vision constantly. Lastly, never, ever, ever give up. Persistence and determination alone are omnipotent.
My dad had a quote that was from his father. It was handwritten on a piece of paper and framed. It hung on the wall at eye level next to his desk. The author was listed as unknown under the quotation. I now know through the convenience of Google that the author was Calvin Coolidge, but as a little kid sitting at my father's desk I remember reading those words hundreds if not thousands of times.
My dad and his father and my great-grandfather were never quitters and I truly believe it's in my DNA to always be determined and persistent.
This is Coolidge's quote:
"Nothing in this world can take the place of persistence. Talent will not; nothing is more common than unsuccessful men with talent. Genius will not; unrewarded genius is almost a proverb. Education will not; the world is full of educated derelicts. Persistence and determination alone are omnipotent. The slogan Press On! has solved and always will solve the problems of the human race."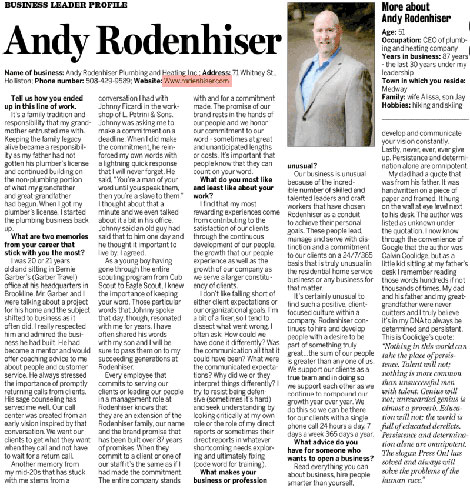 Andy's Business Profile Feature published in the MetroWest Daily News